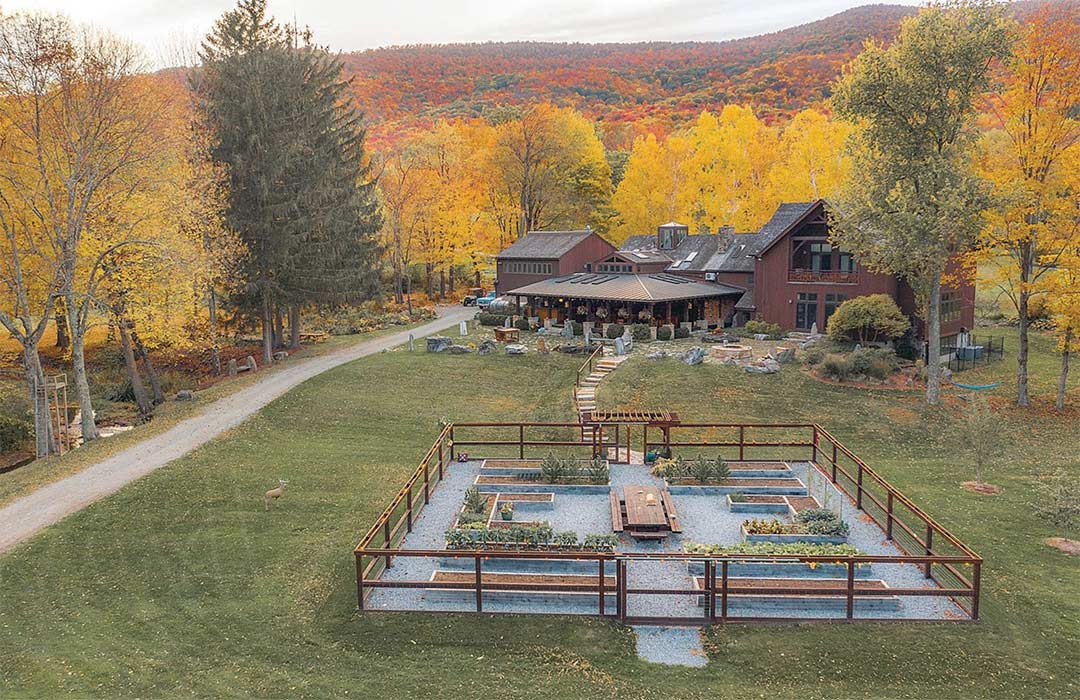 Woodlife Ranch Produces Syrup and Honey, Offers Potential for More
The Berkshire Eagle // November 9, 2019 // Benjamin Cassidy
To show where Woodlife Ranch taps maples for its line of syrup products, Mario Gagliardi produced an aerial shot of the property. On Monday morning, Gagliardi hovered over the photograph inside the working farm's rustic main house. Wall-mounted animal heads surrounded him. Weekend pleasures — a well-stocked bar and pool table — teased from behind. He pointed to a small patch of the 1,018 acres captured in the shot. One thousand taps occupy that space, and soon he was navigating around them on four wheels, passing light-blue tubing threading through bare source trees.
Among other things, the New Ashford resident manages timber and agronomics at Woodlife Ranch, which is owned by his brother-in-law, Michael Patten. Since Patten bought the property in the mid-1990s, he has, with the help of staff like Gagliardi and various parcel acquisitions, grown his turf from 60 acres to more than 1,000 that span parts of Williamstown, Hancock and New Ashford. This year, however, marked a different kind of expansion for Patten and his staff: the launch of Woodlife Ranch Provisions, a line that touts honey and syrup products and, in doing so, promotes a private ranch that may be more accessible to the public in the coming years. Apple orchards, for example, will be available to pick in the next year or two; one of them may eventually produce some hard cider. And tiny house and lodge accommodations could lead Patten to venture beyond the occasional Airbnb rental.
"That's definitely a possibility in the future, to have a hospitality aspect," Patten said by phone Thursday.
For now, the ranch is focusing on Provisions. The syrup comes in five varieties: the three standard grades (dark, amber and golden), as well as bourbon barrel-aged and applewood smoked. The bourbon barrel-aged syrup sits in a once-used barrel for six months before bottling. The applewood smoked syrup is best for cooking or mixing in a cocktail; it's slowly exposed to smoke in a container. The syrups cost anywhere from $8 to $18, depending on type and size (4 to 12 ounces).
The ranch harvests raw honey that can be purchased for $16 in an 18-ounce container. Bourbon barrel-aged and applewood smoked honey are currently offered in $17 12-ounce containers, though Gagliardi said the company will be discontinuing its applewood flavor. In addition to its website, the ranch will be selling its honey and syrup products at Greylock Works' upcoming Festive holiday market on Nov. 23 in North Adams, where the ranch may also debut a black truffle-infused honey.
Patten grew up just north of North Adams in Stamford, Vt. He has long had an affinity for the woods. His grandfather taught him how to hunt, fish and ski at an early age, and he later went into the land development and timber business. It's important to him that Woodlife Ranch is a "sustainably managed forestry program."
"That means we manage our timber for long-term use. Timber's kind of like — a lot of people get upset, 'Gee, you cut trees,' but you got to cut trees to have a healthy forest," Patten said. "So, we manage our timber over time so that every five or 10 years we do a cut, and that can go on for 100 years, for the next generations. It generates income, and it creates wildlife habitat. It's just a great use for the property."
Patten has traveled around the country during his career and often stayed at impressive lodges, including in the Adirondacks.
"Every time I went somewhere, I just said, 'Boy, that'd be kind of neat to have in a house someday,'" he recalled. "I guess I always envisioned having a great lodge built on a piece of land that was large enough to get lost in. That was my original focus."
The ranch's syrup has been three years in the making. Last year, Woodlife Ranch collected 350 gallons, storing it in 40-gallon barrels; a sugarhouse on the property is under construction. The first year of tapping, Berkshire syrup stalwart Ioka Valley Farm, located a little way down Route 43 from Woodlife Ranch, let the nascent operation boil there for a cut of sales.
"They helped a lot," Gagliardi said.
The Lanesborough native is a U.S. Coast Guard veteran. He graduated from the University of Massachusetts, Amherst with a degree in plant science. Before Woodlife Ranch, he was a golf course superintendent in New Jersey.
"I loved being outside," he said.
His current gig allows him to be outdoors all the time. The sylvan property has trails, trout, and bass ponds and gardens. The ingredients are there for an experience rich in activity and taste.
"A lot of the things we're doing are throwback things — making cider with the apples and the maple syrup and the honey — those are all things that were kind of near and dear to me growing up," Patten said. "It's kind of an older way of life, a forgotten way of life."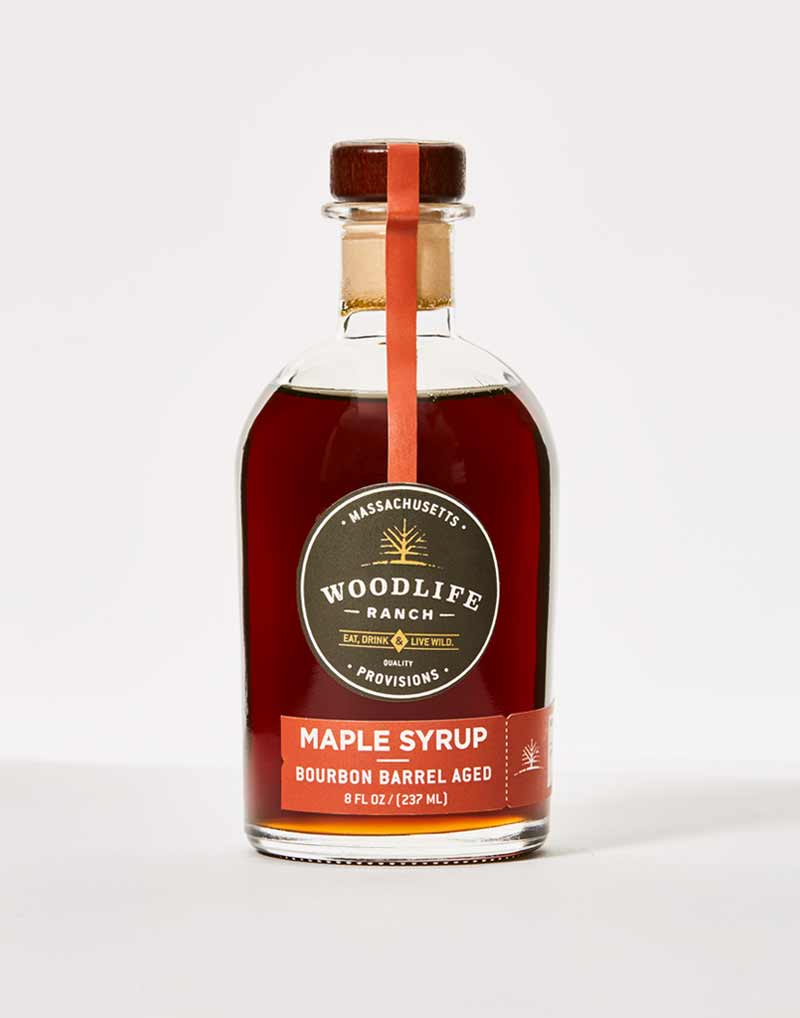 Woodlife Ranch Bourbon Barrel Aged Maple Syrup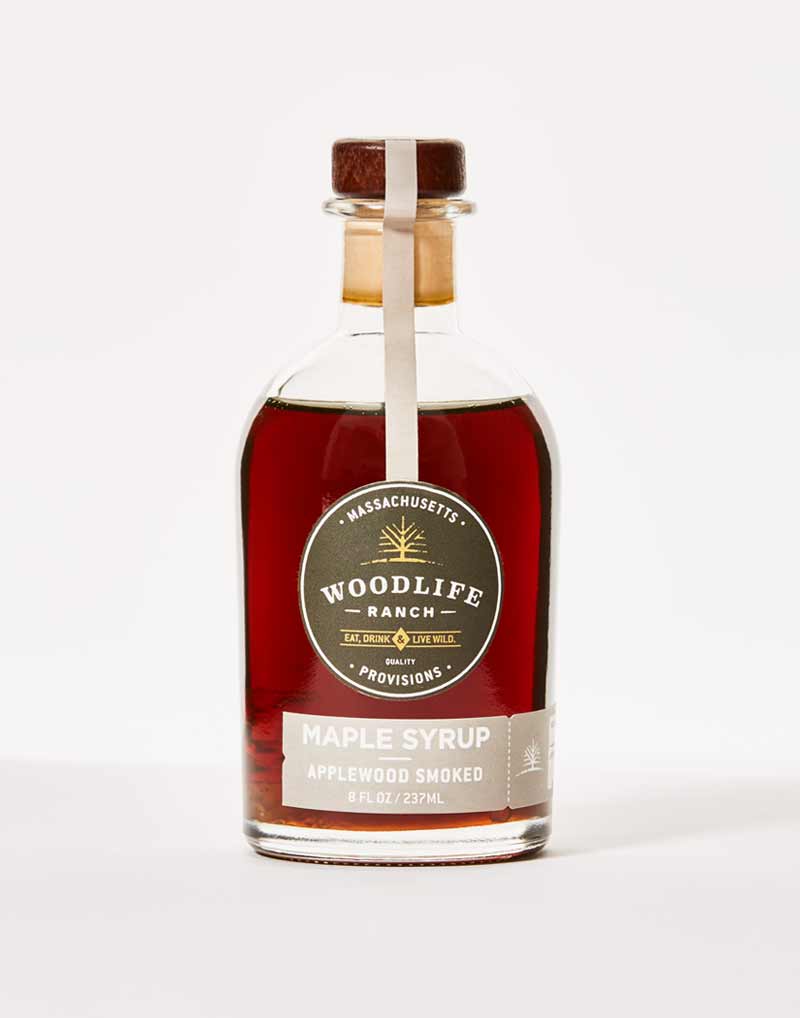 Woodlife Ranch Applewood Smoked Maple Syrup