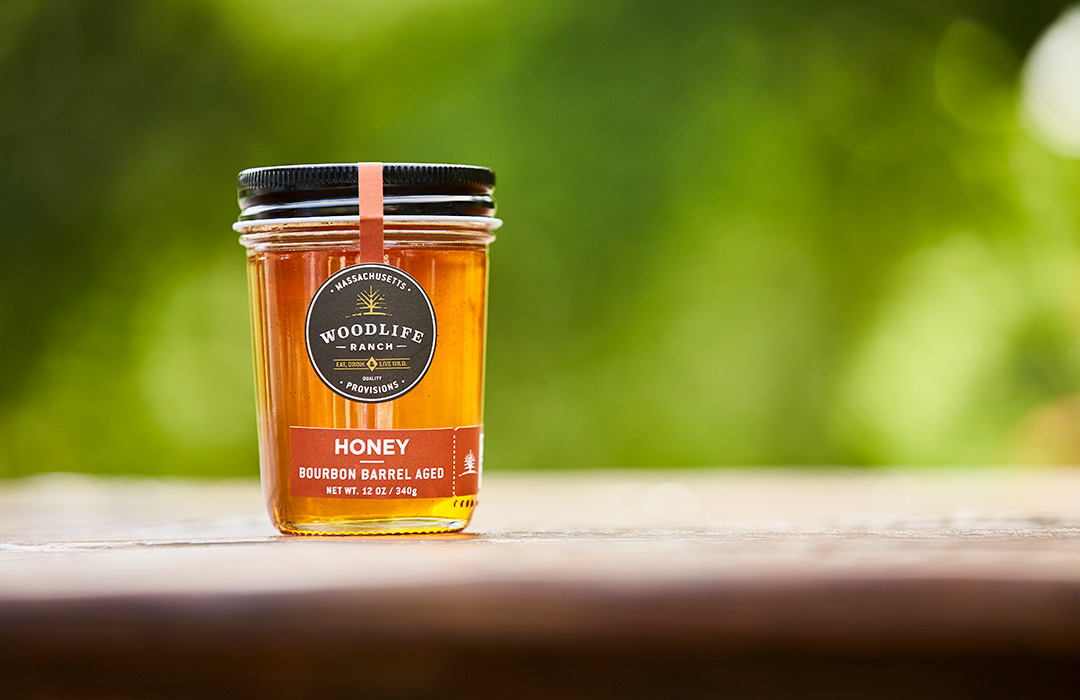 24 Gourmet Food Gifts for the Foodie You Love
Daily Mom // November 7, 2020
We all eat, but there are just some people who just love their food. We're talking a huge appreciation for all things edible. So what do they expect more than beautifully wrapped food gifts sitting under the tree that are delectable, desirable, and delicious? From meats and seafood to cheeses, desserts, and accouterments to please, plus everything tasty in between, we've put together an amazing list of gourmet food gifts for the foodies you love.
Joya
If there was ever the perfect food gift for a foodie-friend of yours, it'd be the Focus Starter Bundle. It's a matcha-loving morning blend to elevate your senses while energizing your mind and creativity for the upcoming day. Simply scoop and blend this green elixir to have the most perfect and productive day.
We cannot refuse the opportunity to Slip Your Chocolate on a daily basis, so neither should you. So if you…err we mean a loved one craves chocolate, then put this on your food gifts chocolate list. Literally, sip away the stress with each swallow and indulge in chocolatey bliss as a brew or blend. We even suggest taking nibbles of the Dark Coconut Milk Chocolate for a creamy, velvety-smooth perfect blend of "milk" chocolate to round out your senses and satisfy a guilt-free chocolate indulgence. Drop these 100% organic gems into a stocking and thoroughly enjoy shopping for food gifts that will delight all the senses!
Sea to Table
Sea To Table is a seafood lovers paradise. With the pandemic limiting restaurant dining, this is the solution to experiencing a premium seafood dinner without ever leaving your house. Delivered right to your door, Sea To Table is a subscription service that provides fresh, frozen, and perfectly portioned seafood choices at a shipping schedule that fits the needs of you and your family. Sea To Table also offers delicious recipes and cooking tips to enhance your seafood at-home dining.
For the fish fanatic, the Fish Lovers Box gives you a wide array of high-quality fish choices including Alaska Coho Salmon, Alaska Sockeye Salmon, Gulf of Main Redfish, Northwest Pacific Cod, Atlantic Winter Skate, and West Coast Dover Sole. The Sweet & Succulent Seafood Set combines the sweetest and richest flavors the sea has to offer. This box includes four 5 oz. lobster tails, three 12 oz. packs of Atlantic Winter Skate, and three 10 oz. packs of the Atlantic Sea Scallops. If these choices aren't your preference, there are tons of other curated boxes to choose from that make perfect food gifts for everyone on your holiday list.
Holy Grail Steak Co.
Skip the sweaters and socks this holiday and give the gift of steak! The Holy Grail Steak Co. connects farms and ranches with consumers that care about the quality of the meat they consume.
The Steakhouse Direct Favorites Flight is a collection of four of the best-selling steaks shipped directly to your door. Each piece is hand-selected, aged five or six times, and precision cut. The four steaks chosen for this sampler include Upper Prime Blank Angus Flat Iron, Upper Prime Black Angus Filet Mignon, Tajima Prestige American Wagyu New York Strip, and Tajima Prestige American Wagyu Hibachi Steak. Holy Grail Steak Co. delivers food gifts of the premium, much-appreciated-by-a-real-foodie type.
Carne Collective
Calling all steak lovers! You need to try yourself or give food gifts from Carne Collective this holiday season. Carne Collective offers only the highest quality, pasture-raised, and certified Angus steaks. Design your own subscription box by choosing the cuts of steak you know you'll love and throw something new into your cart to broaden your steak palette. The filet cuts are large, juicy, and practically melt in your mouth, or try the New York strips for ultimate mouth-watering flavor. Make memories this holiday season with Carne Collective.
Sprinkle Pop
Add a huge pop of festive fun to your holiday baking with Sprinkle Pop sprinkle mixes. As you can see, these are no ordinary sprinkles. Sprinkle Pop creates colorful pieces of confectionery that will wow your family, friends, and followers. The bright, vibrant colors combined with thoughtful and unique candies in varying shapes and sizes will transform your sweets from baked goods into mini-works of art! And the best part is these mesmerizing sprinkle mixes taste just as good as they look.
You can switch out your sprinkles for each season too. Spice up that pumpkin pie with rich reds, browns and oranges. Enhance your PSL with marshmallow-flavored sprinkles, or dreamy fall colors accented by maple leaves and shimmery burgundy sugar pearls. Top cookies for Santa with icy blues, white snowflakes, bright Christmas red, shiny metallics and adorable snowmen. Ring in the New Year bright silver, glamourous gold, sparkling black, translucent confetti and glitter stars.
Addictive Wellness
When looking for the most purposeful food gifts for that special someone, Addictive Wellness is your stop for those foodie chocolate lovers on your list. Even more so, it's the perfect place to shop for the (health-conscious) foodie who appreciates pure, unadulterated, and potent adaptogens conveniently stored in delicious indulgences. The Heart & Love Connection is the "happifying" collection for those who love food and self-care. Love is the premise of this collection that continues to give and give long after the holidays are over.
Farmbox Direct
Give the gift of fresh fruit to yourself, a family friend, or even a family in need this holiday season with Farmbox Direct. Delivering fresh organic and all-natural produce right to your door throughout the continental United States, Farmbox Direct delivers in-season fruits and veggies to your door all year long. With a variety of boxes to choose from, by size Organic or Natural boxes or by color juicing (green juice, orange juice, or red juice) boxes, there is something here to please every palate. With the goal of bringing healthy fruits and veggies to families, as well as supporting local farms, Farmbox Direct is a healthy and fun way to experience fruits and veggies you may love, others you may not, and many you may have never before tried. You can choose your delivery schedule, and every week before delivery you will receive a menu of what your box will contain allowing you to make substitutions before delivery. Eat fresh, eat local, and eat healthy with Farmbox Direct this holiday season.
RSP
Healthy food gifts aren't easy to find, especially for those picky, foodie types we all love to hate! Don't worry, we have you covered. When life is busy (and it is so busy), the perfect food gifts shouldn't compromise anybody's waistline. That's why we love the TrueFit meal replacement. It has real food ingredients, grass-fed whey protein, and the much-needed, quality probiotics. All the rich protein you could want and the whole food nutrition even your foodie friends will crave.
If you are looking for quality collagen to add into the mix (because we love healthy skin, hair, and nails), drop in the AvoCollagen along with their meal replacement. With hydrolyzed collagen peptides and the delicious nutrient content from avocados, it's a one-of-a-kind Keto-friendly collagen powerhouse. If that wasn't fancy enough the Clarity Creamer should round out your food gifts nicely. Your coffee or tea-loving bestie will get their energy boost from healthy MCTs and brain-clarity nootropics every morning. Since it doesn't contain any sugar, "cheating" never eve happened, even though this tastes amazing!
Eat Clean Bro
Meals that cook themselves? It doesn't get much better than that when seeking out food gifts this Christmas. Founded in 2013 in the effort of bringing health to your doorstep, Eat Clean Bro offers a selection of fifty fresh, prepared, and ready to eat meals. The Thai Peanut Shrimp meal has all the veggies you need, cooked to satisfy even the pickiest tastebuds! Over a bed of tender carrot noodles lies an Asian stir fry mix with plenty of juicy shrimp, all for right around 500 calories.
One of the classics from Eat Clean Bro, the Cajun Chicken Burger, is a well-rounded tasty meal perfect for lunch or dinner. This healthy selection is the perfect dish for those searching for chicken as the main protein, or by browsing under "Meal Type". All of the food is satisfying and healthy making it impossible to go wrong with your selections.
Super filling and coming in under 500 calories, the Green Chicken Enchilada Bowl is a flavorful choice for Mexican food lovers. This meal is served on top of spaghetti squash that works surprisingly well with the slow-cooked and shredded chicken, sautéed vegetables, salsa verde, and cheese.
With so many meal choices, it's nearly impossible to pick just one. The Anthony Ashnault is a great traditional option complete with salmon, orzo, piccata sauce, and steamed asparagus. All meals can be shipped to the Eastern states listed on the website, or also picked up in-store if close enough to one of the Georgia or New Jersey locations. There is someone in everyone's life who could benefit from pre-made, healthy meals. Give one of the best food gifts around this Christmas with Eat Clean Bro.
Saxelby Cheesemongers
Just because you're not hosting a large holiday gathering this year doesn't mean you can't party like you are! Put a little bit of splurge into the already indulgent season with Saxelby Cheesemongers. The Cheese and Charcuterie makes a delicious gift to yourself or a loved one. Three fresh farmstead cheeses are paired with two of America's finest cured meats. The one-pound serving of cheese and nine-ounce serving of meat can feed up to 12 people. (Or a smaller family can enjoy a charcuterie board several evenings in a row!)
With Saxelby, you'll taste a variety of rich flavors, like the nutty and caramelized cheddar, rich and fudgy cow's milk blue, and semi-firm citrusy and buttery sheep/cow blend. Which will become your favorite? Give a gift that makes a difference by supporting small farms and cheesemakers this year. Shop small, with Saxelby Cheesemongers.
Hilliards Candy
Don't you dare get someone some holiday food gifts without some amazing combinations of toffee and peppermint in a keepsake wooden gift box! This won't fit into a stocking, but it will fit just nicely on your love's nightstand, an end table, or holiday treat table because celebrating the holiday without Almond Toffee Crunch from Hilliards Candy is just wrong. It's known as "Buttercrunch", their classic Hilliard recipe that is a beloved treat for everyone. The tender crunch of the almonds and toffee is swallowed up by delicious dark chocolate, topped with almonds for a stunning finish.
Now, think holiday layers in a gorgeous wooden keepsake box for the ultimate treat. The Limited Edition Peppermint Bark comes with the signature dark chocolate layered with creamy white chocolate with a hint of natural peppermint oils. Then add in yet another layer of crushed bits of Hilliards festive red, green, and white peppermint candy. If the color scheme isn't tempting enough, the flavors will have your mouth begging for more. Oh, and Oprah even thought it was delicious enough to put it on her "Favorite Things" list back in 2018!
Another beautifully decorated peppermint bark from Hilliards Candy, the Hanukkah Peppermint Bark is layered similarly but comes with a gorgeous, specially made mix of blue crushed peppermint hard candy. It still has the signature dark chocolate and smooth white chocolate layers with just enough peppermint oil to compliment the flavors but now, with the holiday cheer of sparkly blues. Hilliards Candy makes any food gifts an absolute pleasure for anyone who appreciates a lovely sweet treat!
Woodlife Ranch
If the holidays or Christmas morning calls for a stack of waffles, pancakes or French toast, then they definitely call for any bottle of the Woodlife Ranch syrups. Because they're all so good, it's highly recommended to get the 5 Pack Maple Syrup Sampler set. With 4oz. each of the Golden, Amber, Dark, Bourbon Barrel-Aged and Applewood Smoked Maple Syrups wrapped nicely in a branded box, you'll get a taste of heaven 5-times over. Or mix and match them over your breakfast for a customer flavor creation.
If syrups aren't your thing, or you know someone who just loves honey, then picking up a jar of their Bourbon Aged Honey is a must. This special sweetener is aged in Williamstown, MA for at least 6 months, which gives it a unique flavor profile you can't find anywhere but Woodlife Ranch.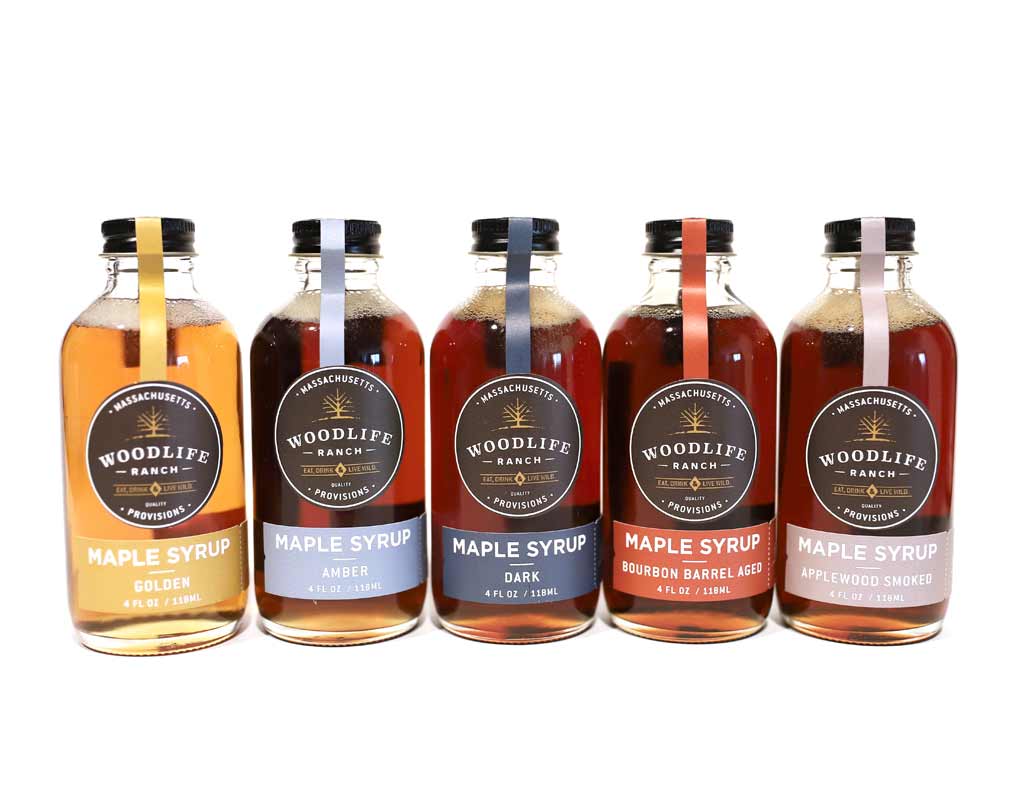 Woodlife Ranch 5 Pack Maple Syrup Sampler
Woodlife Ranch Maple Buttermilk Pancake & Waffle Mix